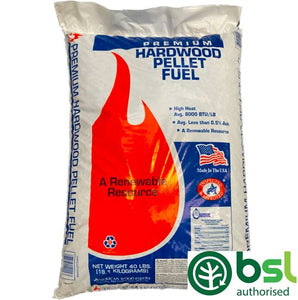 ABOC SOLID FUELS
AWF Hardwood Pellets, 18.1kg
Regular price
£13.20
£0.00
Unit price
per
Tax included.
Shipping
calculated at checkout.
Pellets are for specific applications only, biomass stoves or pizza ovens.  For general stove or open fire burning, use standard logs and firewood. 

Hardwood Pellets are the perfect way to heat up your home effectively and sustainably. Biomass pellets are made from sawmill residue with no additives to ensure a clean and natural burn. The ENPlus A1 certification ensures their quality and efficiency when burned in appliances. 
Important features
Used in Biomass stoves, boiler and pizza ovens.
Made from sawmill residue
18.1kg bags
Reliable, clean, and efficient
Low moisture content and ash content below 0.5%
E8Ultra-high heat (greater than 320k BTU's per bag)
Although less common in the UK, hardwood pellets are widely used in the US and Europe and are highly regarded as an excellent biomass fuel.
---