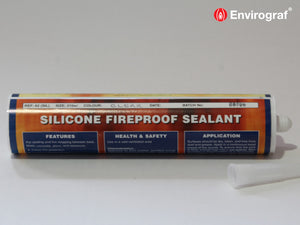 ABOC SOLID FUELS
Envirograf Silicone Fireproof Sealant, black 1200deg
Regular price
£24.96
£0.00
Unit price
per
Tax included.
Shipping
calculated at checkout.
Silicone sealant, an odourless, ready-to-use, flexible, halogen-free. On curing is like rubber in consistency. Reacts with atmospheric moisture to form a durable, flexible seal. For use at joints between many building elements and materials, giving a water-tight, gas-tight and flexible seal. For example, in steel, brick, and blockwork, concrete, ceiling, walls, and partitions. Can be used on log stoves in areas where there are no flames.
Supplied in 310ml tubes. Colour black. Also, suitable for alkaline substrates such as concrete, mortar and fibre cement. As well as, gaps up to 50mm wide.
---