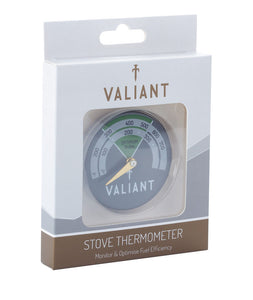 ABOC SOLID FUELS
Stove Thermometer
Regular price
£11.00
£0.00
Unit price
per
Tax included.
Shipping
calculated at checkout.
Protect your stove from overheating with our Stove Thermometer.
The magnetic Thermometer clearly displays the temperature of your stove, enabling you to maintain a safe and efficient operating temperature and reduce fuel consumption.
The robust design and strong magnet of the Stove Thermometer means that it's suitable for use on any hot steel or iron surface, including stoves, BBQ, ranges, patio heaters, flue pipes or chimineas.
Features:
Attaches with a strong magnet

Use to monitor stove temperature and performance

Use to measure flue pipe temperature

Reduce or optimise fuel consumption

Optimise the stove temperature to reduce chimney deposits

Decrease the risk of overheating damage
Fitting:
Place the Thermometer on the top, front, or side of a flat or curved surface. The built-in magnet will maintain its hold on steel up to temperatures of around 800°F (425°C).
The optimum position is on the flue collar, or if not practical, as close to the collar as possible for a stable reliable place for monitoring the stove and flue gas temperature

.

Suitable for use with most vitreous enamel, iron or steel flue pipes.
For stainless steel flue applications do not attempt to fix to flue pipe, attach to the stove collar or place on the stove top.
---