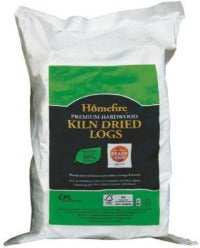 ABOC SOLID FUELS
Homefire Sacks (58ltr), Birch
Regular price
£24.90
£0.00
Unit price
per
Tax included.
Shipping
calculated at checkout.
Woodsure Ready to Burn (WS172) logs, typically Birch

Kiln dried tightly prepacked 58ltr sacks.  The logs are a cut to a 25cm (10inch) length, , split and kiln-dried to have a moisture content below 20%.  Logs are mixed scandinavian hardwoods, typically Birch. 

Birch is less dense than other hardwoods hence will light easier and burn quicker. Buy with Oak Sacks to reduce the stove reloading time.
Mixed Scandinavian source, FSC Certified.


Kiln-dried to less than 20% moisture content.  Ready to Burn

Burns at a high temperature with a long and natural flame

Low smoke emissions make them better for the environment

Low in tar so better for your appliance

Ideal for wood burning stoves, multi-fuel stoves, pizza ovens, chimeneas or traditional open fires.
Logs cannot be sold by weight due to the moisture content, however for loading purposes we allow 25kg for the sacks.

Volume discounts, automatic 8% on orders over £130.  Bulk buy:

10 sacks = £249 - 8% = £229.08 (£22.91 per sack)
20 sacks = £460 - 8% = £458.16, equivalent to 3 'dumpy bags'
discount applied to any product mix
Delivered at your convenience and dropped where you ask.
---